Media Sensitization Workshop on IMI 5.0 Conducted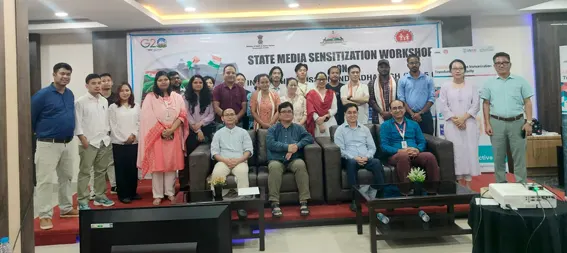 Naharlagun, 2 Aug:
A state media sensitization workshop on Intensified Mission Indradhanush 5.0 (IMI 5.0) was organized by the state department of health & family welfare in collaboration with USAID supported MOMENTUM Routine Immunization Transformation and Equity Project here on Wednesday.
Participants
Prominent media representatives
Health officials
Community stakeholders
Addressing the Participants
Addressing the participants, state immunization officer Dr. D. Padung said, "IMI 5.0 embodies an unwavering dedication to reach out to those who remain unvaccinated, bridging gaps in immunization and ensuring a healthier future for our children. Through the combined efforts of the MOMENTUM Routine Immunization Transformation and Equity Project, along with other immunization partners, our healthcare teams, and the backing of our community, we are steadfast in creating a lasting positive influence on the well-being of our children and fostering a stronger, healthier state."
Role of Media in IMI 5.0
Highlighting the crucial role of the media in IMI 5.0, NHM MD Marge Sora said, "Media professionals play a crucial role in effectively conveying the importance of vaccination, leading to increased community engagement and significantly higher vaccine acceptance and coverage rates. Through awareness-raising and dispelling myths, media personnel make a significant contribution to the success of this life-saving endeavor."
Success of the MOMENTUM Project
Informing that the MOMENTUM Routine Immunization Transformation and Equity Project has successfully facilitated COVID-19 vaccination among the vulnerable and marginalized for the state governments of 18 states including Arunachal Pradesh, the project's project director Dr. Gopal Krishna Soni said, "In this phase, the learnings and strategies from the COVID-19 vaccination drive will be leveraged in the uptake of routine immunization among children."
Effective Monitoring and Tracking
It was also informed that healthcare workers will be able to effectively monitor and track the immunization status of children and pregnant women through the U-WIN portal, thereby ensuring comprehensive coverage and timely intervention.